ATM protection solution by implementing opening authorization from CMS
Security firms offering ATM security services requested a solution that would ensure the control of connection with Central Monitoring Station (CMS) and would provide an option to authorize the ATM opening remotely from CMS. We have offered a solution involving two connection channels and remote authorization using the program IPcom Control.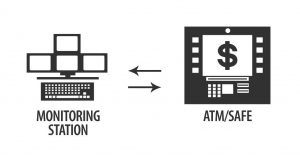 Client
Security firm offering ATM security and cash collection services.Problem

Several of the ATMs protected and serviced by the security firm were stolen along with the cash inside. Part of the thefts were carried out by blocking the GSM connection channel, therefore, alarm messages sent by the stolen ATMs did not reach the station. Security firm station did not have the capability to separate connection network faults from deliberate channel blocking.

Security firm approached us asking to offer a ATM security system that would prevent such thefts and allow to open the ATM only upon receiving an authorisation from CMS.
Goal
To create a security system that would ensure the control of deliberate connection channel blocking and remote ATM opening authorisation from CMS, and would react to ATM movement or leaning.
Control of deliberate connection channel blockingSecurity control panel SP231 with integrated GSM/GPRS communicator was installed into the ATM. Additional GSM communicator G10 was connected to the MCI data bus of control panel SP231. SIM cards of two different mobile connection operators were used in the control panel and the additional communicator. Also frequent PING signal intervals of 15 seconds were set in both models in order to ensure constant connection control.If the message receiving program IPcom does not receive PING messages from both modules, the program recognises a connection blocking event and informs the station operator with an alarm message

Security firm immediately dispatches a rapid response team once connection to both modules is lost.

Identification of movement or leaning

Movement and leaning sensors from other manufacturers were connected to security panels SP231, identifying any ATM movement or leaning. Alarm message is formed once ATM movement is identified.

ATM opening authorisation from CMS

We have suggested to set up an IP receiver RL14 in CMS and install program IPcom Control which allows to control security control panel SP231 outputs OUT remotely. This allows the cash collector to contact CMS upon arriving at the ATM so that the station operator can authorise the ATM opening without triggering the alarm message.

Program users (operators) have unique log-in data and different rights. Activity log is saved in the database. This ensures full control over station operators' and cash collectors' activity.
Implemented solution has prevented ATM thefts, provided with a capability to react to potentially dangerous situations when connection channel is being blocked in a quicker manner, and increased the security level provided by the security firm.
Communicators that send alarm messages using alternative channels (Ethernet, radio) can be used with security control panel SP231in order to ensure the connection. T10 series transmitters are used for message transmission using the radio channel and E10 series communicators are used for message transmission using Ethernet connection channel.