Security Company that undertook the change from wired copper telephone lines to cellular IP connection to optimize performance and prevent lost signals.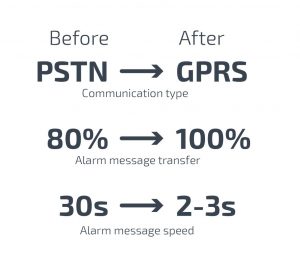 Analog telephone lines in the country were being replaced by VoIP telephony. This lead to unstable communication between alarm panel diallers and the monitoring station. Many various Caddx, DSC, and other alarm systems (part of which were set up 10 or more years ago) that can only send messages using wired phone lines are set up in the objects protected by the security firm.
We recommended to implement:

1) TRIKDIS cellular and IP communicators with direct connection to DSC PowerSeries and Caddx NX series panels. And communicators with a dial capture interface for any other panels.

2) Hardware IP receiver RL14 to receive events from the communicators. It monitors connection with communicators with heartbeat messages, and automatically sends information to the monitoring software about lost connection.

3) Set up a backup receiver in a Windows OS computer with a free IPcom software IP receiver.

4) To use the services of two different internet providers in order to increase the reliability of message transmission.
After TRIKDIS communicators were installed alarm messages are sent effectively. 100% of all events are received. Message transmission time was reduced from 30 seconds to 3-4 seconds.Security firm installers quickly saw the benefits of TRIKDIS communicators as the installation is fast, there is no need to reprogram the alarm panels. They needed only to connect the wiring.

The customer now has a competitive advantage against competitors that still rely on wired telephone lines.