With the growing amount of vending machines in offices and public places, the demand for protecting machines and cash inside is growing and that could be an extra source of income for security companies.CG17 alarm panels are used to protect the vending machine, cash inside, and to monitor the amount of remaining products.The largest wholesale, distribution, and logistics company in Lithuania has deployed a lot of coffee vending machines, which they wanted to protect and monitor.
They install CG17 alarm panel in every vending machine with:
3 magnetic sensors on each opening latch;
Accelerometer sensor for movement detection;
Internal siren;
Back up battery.
This ensures the monitoring center is notified about any tamper or break-in to the machine.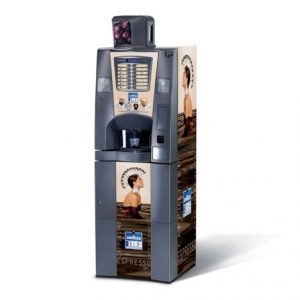 The company also monitors the amount of water, milk, coffee, and plastic cups that are left in the machine. This saves service hours and fuel because technicians service the machines only when the ingredient tanks are almost empty.To sense the number of remaining items, they used to contact with a spring and a lever.The number of monitored items can be increased with an iO-8 input expander.
Notifications and alarms from the system are sent to the central monitoring station and to the Protegus app account off the assigned maintenance staff.When a technician needs to refill the ingredients, he can disarm the CG17 with his Protegus app account. It can also be disarmed by an operator from Central Monitoring Station.