When it comes to updating the security system's connection via GPRS/IP, it is much easier to connect a communicator to the control panel's Serial/Data Bus. When the communicator is connected to the Serial/Data Bus there is no need to configure the Control Panel or change any settings. Thus, the installer code is not required. Therefore TRIKDIS GPRS/IP communicator installation is very fast and convenient.
Most commercially available GPRS/IP communicators in the market are connected to the control panel via landline communicator. In this case, the installer's code is required to program ARC's data into the control panel. Without knowing this code, the control panel must be reset to its default values and reprogrammed from scratch.
This is explained by the graph below: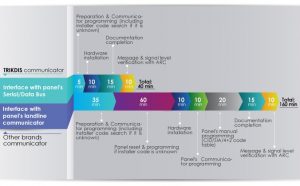 Download brochure about a faster upgrade to GPRS/IP communication via the Data Bus interface by following this link.